Free Events:
2018 therepubliqfest – LGBTQ+ Music Showcase (Unofficial SXSW)
Check out the 4th annual LGBTQ+ music showcase in the historic Austin Warehouse District. This event, hosted by Austin's main LGBTQ+ news resource therepubliq, is open to those 21+ at Oilcan Harry's.
Punk Talks Unofficial SXSW Showcase
This 21+ event brings together a variety of musical acts, (including Shamir, and Sammus) to bring awareness to mental health and services that Punk Talks provides to the music community.
---
Daily Trojan Featured Artist: Adrian Daniel
I'm most excited about discovering new artists at SXSW. That's the core of SXSW — it's not about going to see big artists we already know, that's what other festivals are for. SXSW is, and should be, about hearing something you haven't heard before that's good.
Born in Brooklyn, Adrian Daniel's modern take on R&B is bringing new life to the genre. His newest album Flawd makes good use deep, enveloping production and booming 808s, with songs like "Havoc" showing his potential as a future star in R&B. His sultry vocals have earned him comparisons to The Weeknd as well as several others, and especially shine on the song "Roxanne" from the new album.
---
Hoek's Pizza is just enough to refuel during the day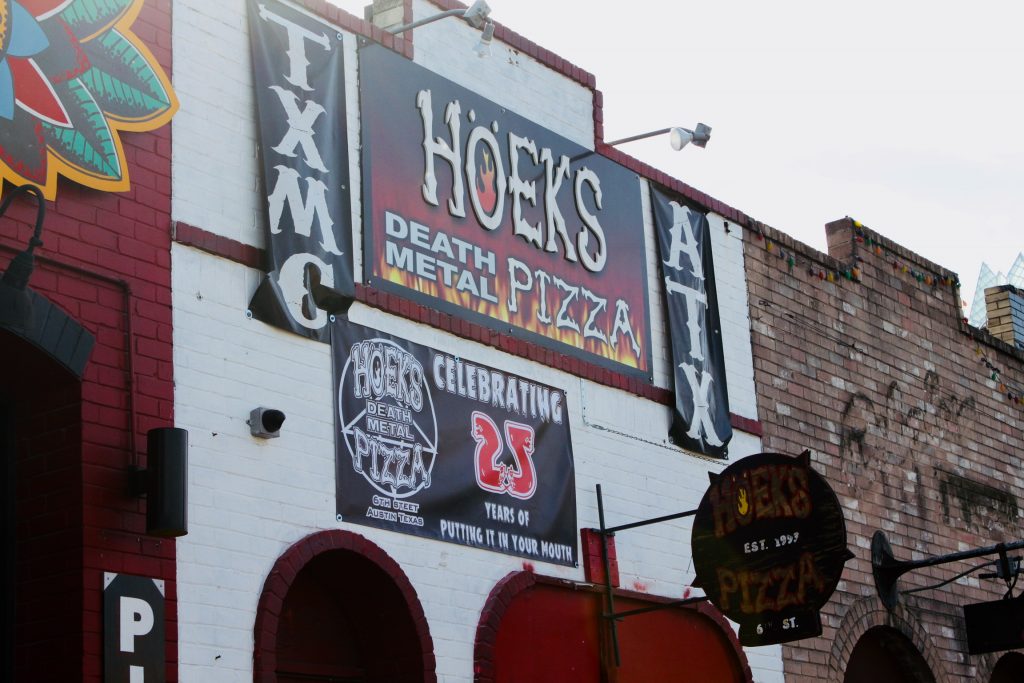 Hoek's Pizza isn't a bad option if you're looking for cheap eats at SXSW, thanks to its $3 pizza slices that can easily satisfy the appetite. Located near the intersection of 6th and Red River, it's right in the middle of most of the action, especially when it comes time for showcases and bar hopping later at night. Don't expect a gourmet dining experience — or even a table where you can eat inside the restaurant — but you'll be in an out in a breeze with enough food in your stomach to tide you over for the rest of the day.
---
Will Wildfire gets the festivities started at REVOLTHouse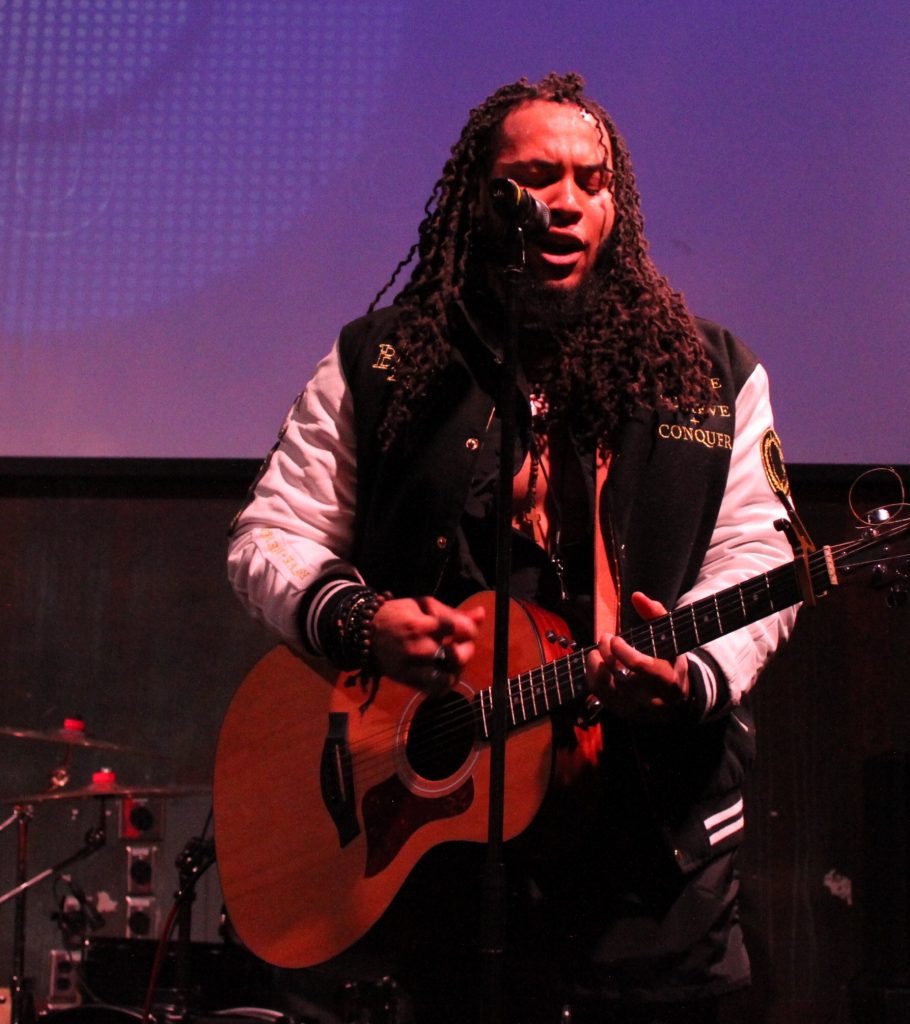 REVOLT secured one of the better venues for their Wednesday showcase, taking over the Vulcan Gas Co. in the middle of 6th St. The massive bar on the ground floor catches your eye as soon as you enter, setting the club atmosphere from the get go. There's a second bar on the upper VIP level, along with a few private booths and an elevated vantage point of the venue.
Will Wildfire took the stage near the beginning of the showcase, giving a decent performance alongside his drummer. Singing while strumming away on his guitar, Wildfire showed impressive versatility, especially when double-timing his flow without missing a beat. He added plenty of jokes in between songs to keep the mood light, before closing with his single "Is This Love" which was perhaps the best of his set.
---
Valee disappoints at Fader Fort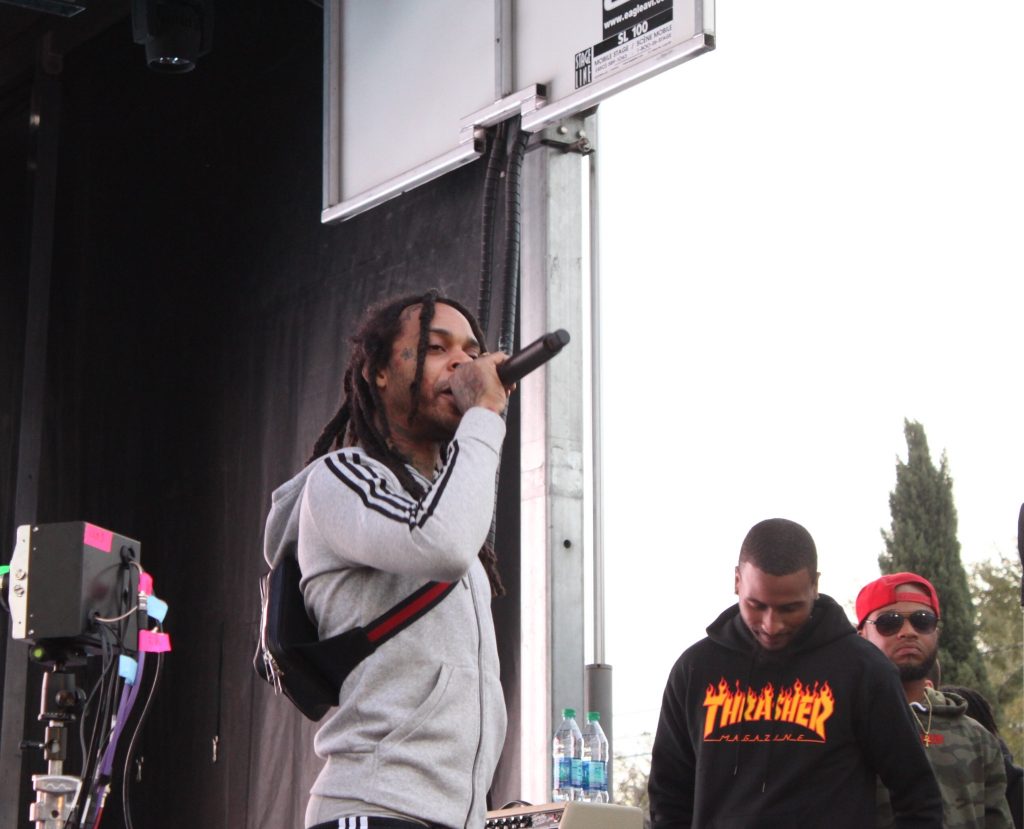 For all the buzz Valee has received from his new EP GOOD Job, You Found Me, the Chicago MC turned in one of the weaker performances thus far at SXSW, during hid time on stage at Fader Fort. Valee relies on hard-hitting, trap-influenced bass lines in his music, but they failed to hype up the crowd today, and the rapper had little else in his arsenal to turn to.
Valee appeared to pack it in midway through the show, doing little to engage with the crowd. His limited energy equaled that of the audience , which appeared to lose interest as he skimmed through his songs with brevity. It takes more than mainstream production and a microphone to deliver a good concert, something Valee will hopefully learn sooner rather than later.
---
Adrian Daniel brings smoother sounds to the Dirty Dog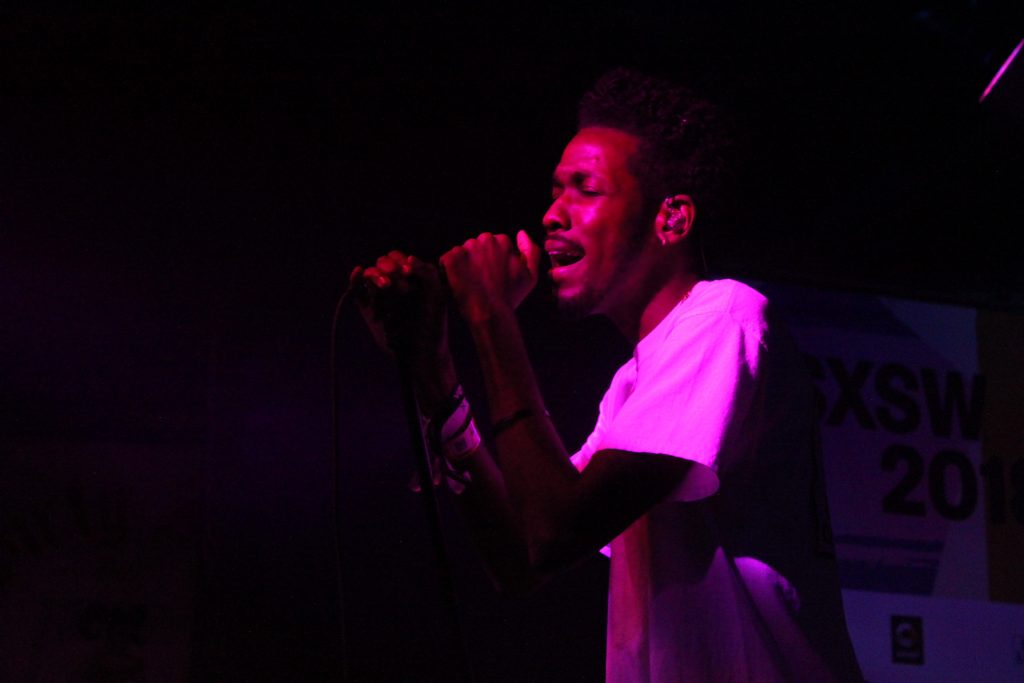 Dirty Dog Bar is the furthest thing from an R&B oriented venue, and Adrian Daniel is the furthest thing from a punk rock, heavy metal artist — but the disconnect between musician and atmosphere didn't stop the singer from putting on a great performance. Hitting soulful notes with ease, Daniel's showcase went over well with many in the audience, and his passion for his art was certainly visible.
The show got off to somewhat of an inauspicious start, after the previous performer went over their allotted time, and sound issues threatened to derail the performance before it started. Once he found his groove, however, the Brooklyn-based singer did more than hold his own, displaying a shimmering falsetto on his older material as well as newer songs from his album Flawd. Closing with "Deadly Attraction" off the recent project was a fine way to end the show, bringing his stage time to a close on a high note.
---
SXSW Music Recap: The Wu-Tang Family Demonstrates Brotherly Love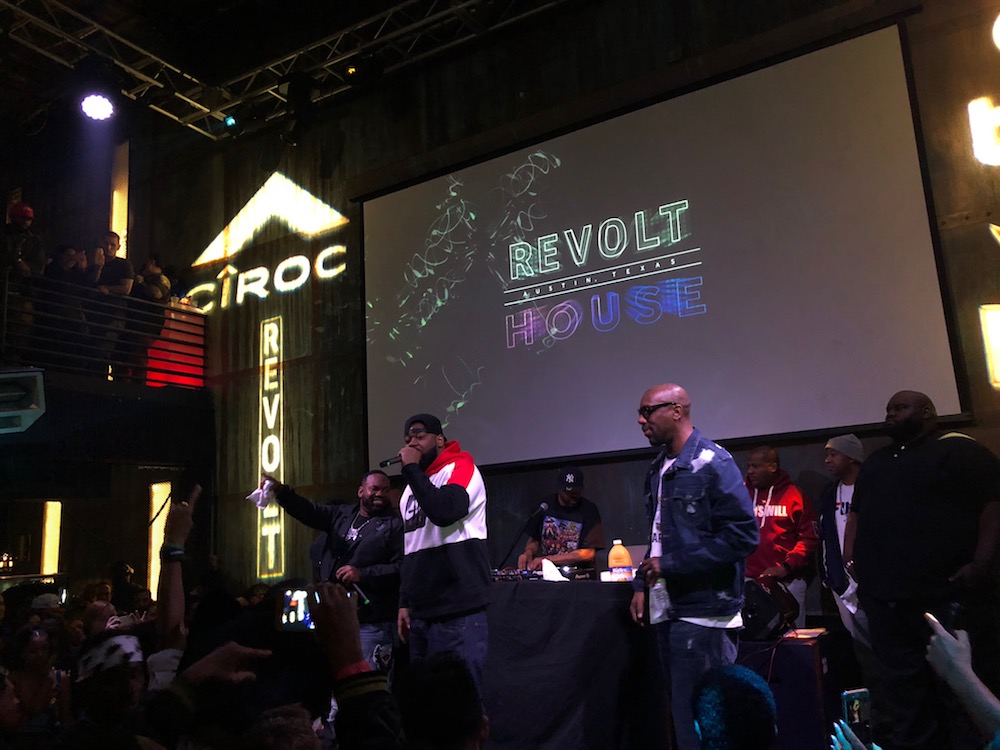 With flags emblazoned with the iconic Wu-Tang "W" flying high atop the Vulcan Gas Company rooftop, there was only one place to be Wednesday night at SXSW – the REVOLT House Showcase. Headlined by Ghostface Killah & the Wu-Tang Family, fans flocked to 6th Street eager to see an onslaught of Wu-Tang Clan members in the intimate 600 person venue. As the line stretched the block, with hundreds of fans unable to make it inside the buzzworthy set, the REVOLT House Showcase lived up to the evening's swelling anticipation.
        Performing in celebration of the 25th Anniversary of Wu-Tang's magnum opus 36 Chambers, "family members" Ghostface Killah, Raekwon and RZA played various tracks off the classic record, as well as a multitude of cuts stemming from the Wu-Tang discography. With fan favorites such as "C.R.E.A.M." and "Bring da Ruckus" sending the packed crowd into a controlled frenzy, Wednesday night's REVOLT House Showcase was much more than just a concert – it was a musical experience that could only occur at a festival such as SXSW. Promptly coming to a close at 1am, the 70-minute set left fans with feelings of contentedness and nostalgia as they filed out of the cramped club and back into the chaos of Downtown Austin and SXSW – now having been in the presence of hip-hop legends.
---
August Greene puts on a memorable performance at NPR showcase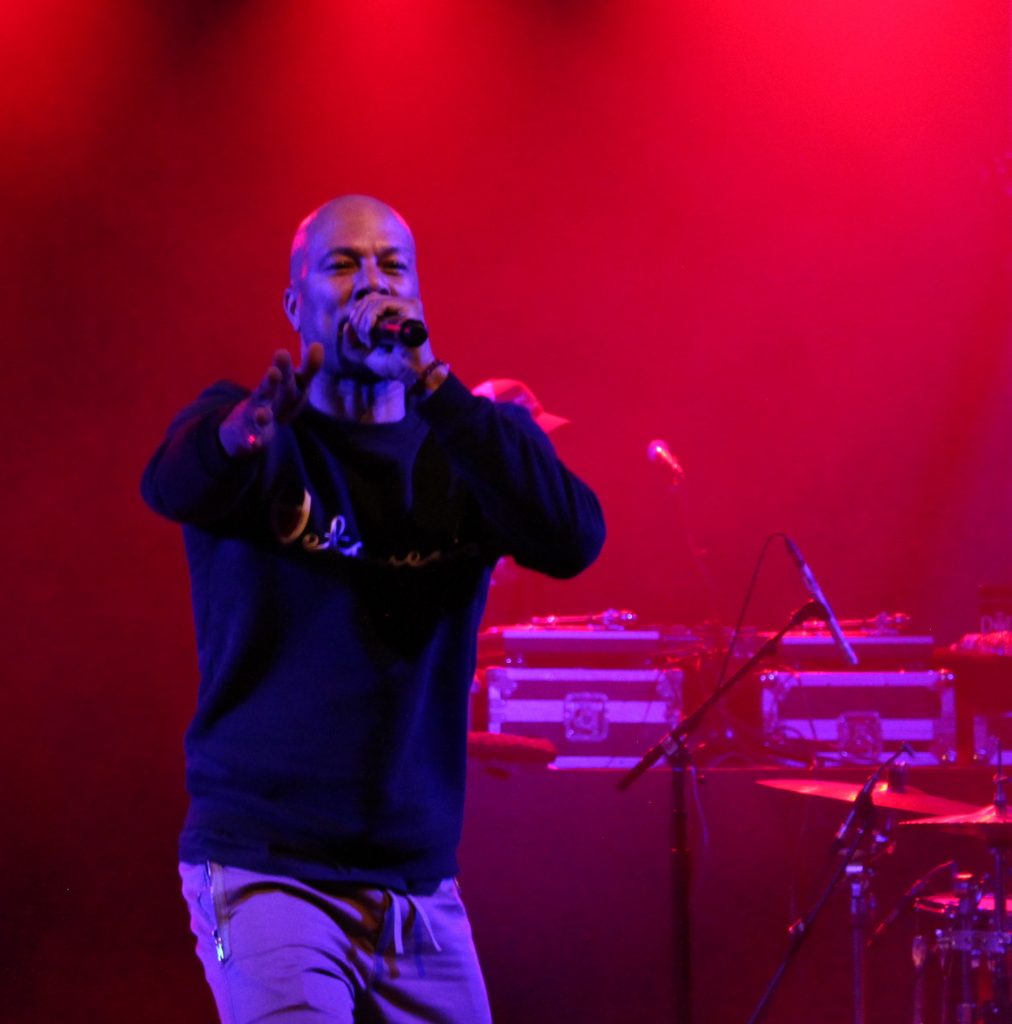 The accomplished trio of Common, Robert Glasper, and Karriem Riggins  recently came together to form the new collective known as August Greene, and their soulful essence has made the group one of the more exciting names to watch in hip-hop. They've already done a lot with NPR in their brief existence, such as their recent Tiny Desk performance which allowed for a sneak preview into their chemistry, and their headlining set at the station's SXSW showcase certainly lived up to expectations as well.
Common's social compass was a huge part of the concert, pushing the program forward and linking it together. As he's done throughout his career, the Chicago rapper made a concerted effort to empower those in attendance, with pro-black messages and notes of encouragement for the women in the audience. The majority of the material came from August Greene's recent self-titled debut, but Common dipped through much of his solo material as well, even running through the entirety of the crowd while performing "GO!" to form a more personal connection with those around him.
Karriem Riggins was outstanding on the drums throughout, executing his various solo's to perfection by discovering new rhythms and patterns as well. Whether it was jazz, funk, or hip-hop, Riggins as well as Robert Glasper provided incredible instrumentation to back Common's vocals, adding layers to the performance. After an extended freestyle that drew rave reviews from the crowd, August Greene closed with Common's song "The Light," which struck a profound chord as soon as the sample kicked in, and had the audience screaming the chorus to end the evening in magnificent fashion.